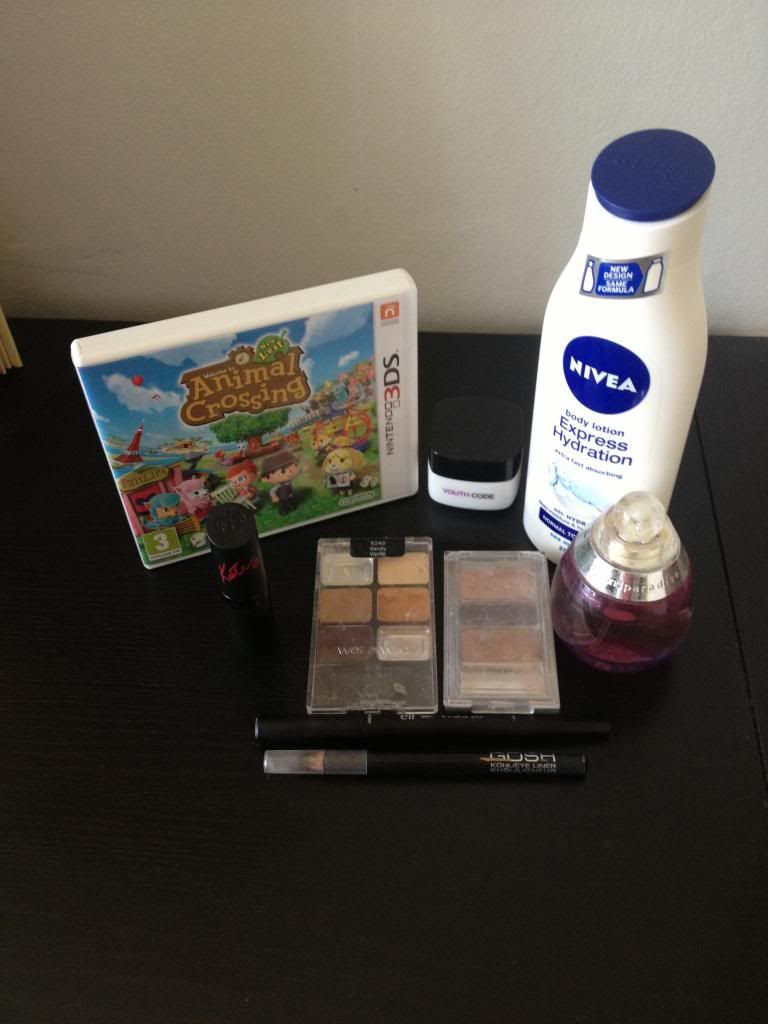 Hello lovelies
I love watching July favorits, so I thought why not show you guys my favorits for this month.
Let me know if you want to see more of these :)
Animal crossing - new leaf
This game is so addictive it's not even funny. I have been playing this game non stop since I got it last month.
I love how you can get cute clothes for your character, how you can water plants and finding fossils... I know it sounds boring, but I promise you it's not.
Nivea body lotion - Express Hydration
I love this lotion, and it has been one of those things I have used a lot this month. I have very dry skin, but somehow I hate putting lotion on, because I hate the waiting time for it to dry. This lotion took me by surprised 'cause it actually dries super fast. It has a fresh scent to it, that makes you feel clean. It might not be the best lotion out there, but it's not bad
My wet n' wild palettes
I LOVE wet n'wild, and I do believe we should have more of it in Denmark. It is so unfair that we don't have the Fergie collection here :/ Anyways the 2 palettes you see on the picture has been my favorite go to palettes for a very long time...
The trio is so old that I can't even see the name on it :O But I freaking love that one, and I just hit pan on the top shadow.
The other one is called Vanity, and it is so easy to work with. As you guys can see, I am missing two shadows :( I dropped it on the floor when I went to Paris and BAM eyeshadow all over the floor :( I need to buy a new one soon
Elf - Eyeline & shadow stick
This eyeline is worth gold on those lazy days when you don't want to fight with your eyeliner... It is so easy to put on and it stays there. I have gotten a lot of compliments with this baby on. It is actually me second eyeliner & shadow stick that I am using now, that is how much I like this one
Gosh - Kohl eyeliner
Gosh was the first makeup brand I got, and I am sticking with it :P
I have used this eyeliner since I started using makeup, and I have been trough several eyeliners since.
L'oreal Paris - Youth code (Eye cream)
I really like this cream for some reason. It is not to heavy on the eyes and dries somewhat fast. I am not really an expert with eye creams, so if you know some good stuff please let me know
Estee Lauder - Beyond Paradise (perfume)
I got this as present from my boyfriend in the start of our relationship, so this perfume is very special to me. I love the fruity/flowery scent it gives. The perfume is strong so you don't need to use a lot. The packaging is so cute... It is rainbow colored with the cutest little colors in it. I find myself admiring it at times
Rimmel - Kate 03
I discovered this lipstick through youtube, so I decided to give it a try last month and I do not regret it all. I have been wearing this everyday since. This lipstick is the perfect nude you will find. One thing I love about this lipstick is, that it is not drying at all for your lips.
So that was my july favorits... now tell me what are yours?